San Diego is known for being America's Finest City. It is also home to many of the most exceptional, most elite members-only clubs, anywhere.

Golf
The Grand Del Mar
5300 Grand Del Mar Court, San Diego CA 92130. (855) 314-2030
The Grand Del Mar is a hotel of unrivaled excellence. It offers five-star service and is consistently ranked among the top hotels in the world. The Grand offers a limited number of memberships to the private golf course on its charming Mediterranean estate in Carmel Valley. Members also enjoy discounts on lodging, meals, spa service and retail, priority tee time reservations, access to its resort fitness center, four pools and all fitness classes, events year-round, immediate family privileges and many other perks.
Rancho Santa Fe Golf Club
5827 Via de la Cumbre, Rancho Santa Fe CA 92067
(858) 756-1182
Homeowners in Rancho Santa Fe are eligible to join the Rancho Santa Fe Golf Club. The club and golf course offer unparalleled luxury and beauty, and the restrictive membership policy ensures a small, tight-knit, neighborly community. The golf course is ranked as one of the best in the world, and especially among walkable courses. Golf instruction is offered at every level. The facility is also a preferred venue for special occasions, both business and personal.
More options for golf lovers
Riverwalk Golf Club – 1150 Fashion Valley Rd., San Diego CA 92108 (Mission Valley) (619) 296-4653. Golf, private tournaments, special events.
The Farms Golf Club – 8500 St. Andrews Rd., Rancho Santa Fe CA 92067 (Rancho Santa Fe) (858) 765-5585. Golf and dining. Popular with PGA members.
San Diego Country Club – 88 L St., Chula Vista CA 91911 (south San Diego County) (619) 422-8895. San Diego's oldest country club and the only private course in South County. Preferred venue for special events; family-friendly calendar.
Social
Hotel Del Coronado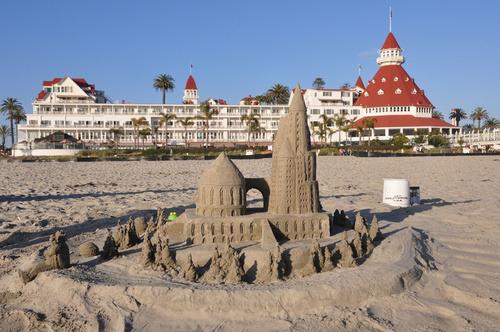 1500 Orange Avenue, Coronado CA 92118. (800) 468-3533
The world-renowned Hotel Del Coronado on the island of Coronado invites you to join its family in several different ways – a country club, a resort club and ownership in its Beach Village.
The Club at the Del country club membership provides locals with VIP access to the best the hotel has to offer, including private pools, private beaches and full-service private cabanas. The complete list of luxuries and benefits is quite extensive, and includes complimentary access to the fitness center and classes, an executive locker room with whirlpool and steam room, a private clubhouse cottage with fireside dining and a year-round calendar of social events. Members also receive significant discounts off lodging, spa and salon treatments, dining, retail and children's programs, and complimentary site fees for special events, as well as two free resort room nights and ten guest passes each year.
Business networking
The University Club atop Symphony Towers
750 B Street, Suite 3400, San Diego, CA 92101. (619) 243-5200
The University Club is the place for business-minded individuals to connect with like-minded people. This downtown club enjoys a solid reputation as the San Diego networking locus for top executives and affiliated power players. It offers superb dining with an unsurpassed view of the city, and hosts highly successful private information exchanging events at which members can nurture long term alliances and establish new ones.
The University Club is in the ClubCorp network. Membership covers special benefits at reciprocal private clubs in San Diego, throughout the United States and around the world.  For example, two-for-one green fees and meals monthly per local club, and complimentary green fees and meals twice monthly per club while traveling (with restrictions); lodging discounts; 7-and 30-day advance tee times and TaylorMade loaner golf clubs. The global network encompasses over 200 private clubs and 700 hotels, resorts and entertainment venues.
Lifestyle Management & Concierge Services
Elite Lifestyle Management (ELM)
2121 5th Avenue, San Diego CA 92101. (619) 430-4470
Elite Lifestyle Management caters to people and companies who seek highly personalized relief from life's busy work.
From home management to executive assistance, the services offered 24/7 by this luxury concierge team facilitate any situation, day or night. Whether for emergency needs, travel, gifts, relocations, reservations, event planning or VIP access, ELM delivers luxury, comfort, efficiency and style to smooth the way for members to spend their time on whatever they value most.
Corporate packages are offered as a five-star perk by employers who want to retain the best employees and reward them for their dedication and commitment.  Real estate packages let agents offer clients everything they could possibly need during the first six to twelve months in their new home, especially when relocating from outside the region and state.
Fitness and health
Bay Club Carmel Valley
12000 Carmel Country Road, San Diego, CA 92130. (858) 509-9933
Bay Club is the fitness, spa and sports club that devotes itself to families and individuals focused on a healthy lifestyle. The Carmel Valley facility features an expansive array of health-promoting resources: eight tennis courts, three swimming pools, a 15,000-square-foot fitness center and a full service spa. The Performance Center hosts popular group fitness programs like boxing, TRX, P90X and Slim in 7. An on-staff registered dietician offers private consultations, meal plans and coaching, and hosts nutrition-focused events throughout the year. Parents choose from a long list of activities for children of all ages, including day camps, social programs and fully staffed
Membership packages are tailored for local, west coast and global access.
All-around A-list clubs
Pauma Valley Country Club – 15835 Pauma Valley Dr., Pauma Valley CA 92061 (Palomar Mountain) (760) 742-3721. Golf, fitness, tennis, dining, events, nearby airstrip.
La Jolla Beach and Tennis Club – 2000 Spindrift Dr., La Jolla CA 92037 (La Jolla) (888) 828-0948. Resort, special events, meetings, dining, tennis club, golf, beach, kids' club, spa.
San Diego Yacht Club – 1011 Anchorage Lane, San Diego CA 92106 (Point Loma) (619) 221-8400. Yachting, tennis, spa, fitness center, dining, special events.
~
Author: Sondra Drahos
Sondra Drahos is a veteran digital marketer and freelance writer. She is huge fan of books, movies, sports, video games, technology, loud music, fast cars & stiff drinks. Sondra resides in Solana Beach with her husband, two boys, and a black cat.
Kimberly Rotter contributed to this post.
Feature image is the Bridges Golf Club, Rancho Santa Fe, CA